Skinception Pure Argan Oil from Morocco
An Introduction to Argan Oil
Take a deep breath when you read this: there are over 10,000 industrial chemicals in common skin care products. The average American adult is exposed to 168 hazardous chemicals each day. And everything applied to the skin, be it lip stick or deodorant, sun block or general skin care products are absorbed by the body, just like they'd been eaten.
Remember that scene in the second season of The Simpsons, in which Mr. Burns ran for Governor, and a three-eyed fish, affectionately called "Blinky", mutated by the pollution from Burns's own power plant, came back to haunt him?
What is argan oil?
Argan oil is an oil extracted from the kernels of the argan tree. The oil is highly valued for its many cosmetic, therapeutic and medicinal properties. Among other ailments, argan oil is an effective treatment for dry skin, psoriasis, eczema, wrinkles, stretch marks and acne.
One of the hottest sellers in the natural skin care industry, argan oil is particularly gentle on the skin, and for this reason, is recommended for consumers with naturally dry skin and/or sensitivities to common skin care products.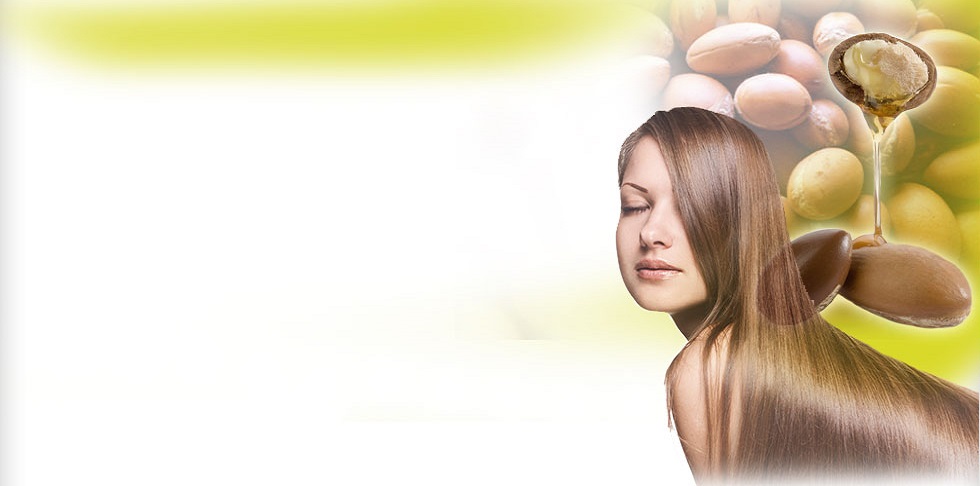 Where does argan oil come from?
Argan oil comes from a 10,000 square mile UNESCO-protected biosphere in southwestern Morocco, and can only be extracted from trees grown in this area.
Used for at least 3,500 years by the Berber people of this region, the oil was traditionally processed by hand, in a laborous process, in which a single litre of the oil took two days of manual labor.
In the early 1990s, argan oil production shifted from the Berber people to modern factories in Casablanca, though government agencies and NGOs have redirected much argan production back to the Berber women.
What's in argan oil?
Argan is high in antioxidants, squalene oil, polyphenols, essential fatty acids, oleic and linoleic acids and has at least 200% more vitamin E than olive oil.
What makes argan effective for anti-aging?
The antioxidants in argan oil fight free radical damage and can protect against aging from the sun. The fatty acids enhance cellular health, with the collagen and elastin required to keep skin young and healthy.
Does argan have other applications?
Argan oil makes an effective hair conditioner. You can add argan to your hair, whether wet or dry, and it's an ideal remedy for dry hair or split ends. Experiment a little; a few drops can add shine to hair and improve its appearance.
You can also use argan oil to strengthen your nails. Mix one part each argan oil and lemon juice, paint it on your nails with a brush and leave it on for fifteen minutes.
In addition, argan oil can be used for cooking, though cosmetic argan is made with a different process than product meant for cooking and should therefore be used for that purpose only.
Are there side effects with argan oil?
You'll find that argan oil is very safe. In fact, it's recommended for people with skin sensitivities and irritations to common skin care products. There are no known wide spread side effects with argan oil, but if you have specific concerns regarding argan, it's best to speak with your physician
Argan Oil Benefits.
Skinception Pure Natural Moroccan Oil Treatment For Skin and Hair Review
Argan Oil Benefits are many for skin, hair and nails.
Find out why more and more people are realising the beauty benefits of Skinception Pure Moroccan Argan Oil.
Argan Oil has many uses, but is only really beneficial in its pure form as offered by Skinception the best quality Argan Oil.
Many other products are diluted or contain other ingredients that reduce and in some cases negate the effectiveness of pure moroccan argan oil.
This Argan Oil Review focuses on the pure quality of Skinception Argan Oil and its real benefits to skin and hair.
When you buy anything from the Skinception range you can be assured that you are buying pure and natural ingredients for your skin care or skin problems. Their Argan Oil is no exception.
Organically grown and using Fair Trade policies the Skinception brand is the best argan oil you can buy.
Five Pointers To Help Make SUre You Are Buying Only Pure Argan Oil
1 The Contents Must State 100% Argan Oil
2 The Price. If it is cheap it is fake.
3 The Bottle. If it is plastic it is fake
4 The Smell. It should have a slight nutty smell that is not overpowering
5 Absorption. Pure Argan Oil will absorb in the skin or hair fast leaving no residue
Check also for a Money Back Guarantee. Skinception products always carry this.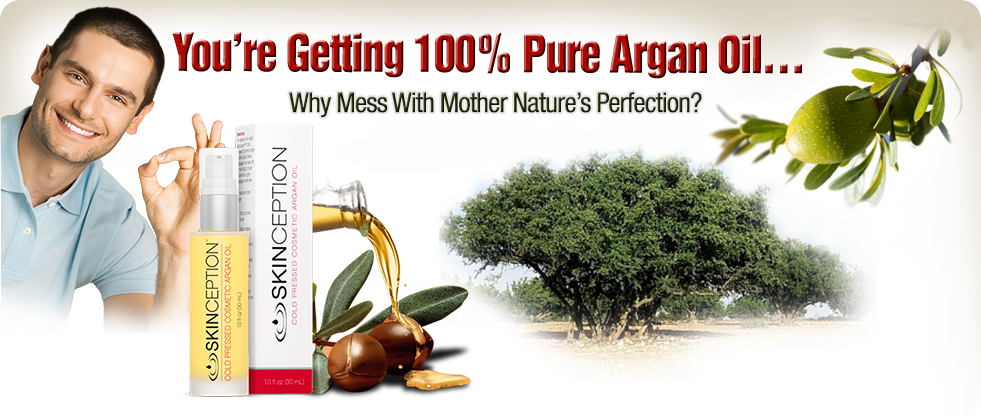 Uses of Argan Oil
Helps Stop Premature Skin Aging
Effective at helping to stop the cross-linking of proteins and DNA degeneration that result in aging.
Fine Lines & Wrinkles Disappear
With revitalized elasticity and firmness plus improved moisture retention, your skin takes on a youthful, radiant glow.
Deep Skin Hydration
Restores the hydro-lipidic film of the skin to dramatically improve moisture absorption and retention.
Collagen & Elastin Repair
Aids in the reduction of fine lines and wrinkles for thicker, firmer, more youthful-looking skin.
Eczema & Psoriasis Relief
With revitalized elasticity and firmness plus improved moisture retention, your skin takes on a youthful, radiant glow.
Fights Sun Damage & Photoaging
Includes antioxidants and high levels of Vitamin E that protect your skin from sun, pollutants, and free radicals.
Fewer Acne Breakouts
Polyphenols promote skin repair with anti-inflammatory, anti-septic, and healing properties.
Strengthens Brittle Nails
Packed with nutrients that help to strengthen brittle nails and soften cuticles, for more youthful-looking hands!
Smoothes & Tames Frizzy Hair & Split Ends
Nourishes, hydrates, softens, and smoothes even the most damaged, out-of-control hair.
That's right… Argan oil isn't just great for your facial skin, you can also apply it to other "problem areas" like eczema outbreaks, rough elbows, stretch marks, acne, and more! Even your hair and nails can benefit from regular applications!
With a 3,500-year track record as an all-round "miracle" skin moisturizer and healing agent, we think you'll be pleased, if not completely astonished, by this single oil's ability to repair, protect, and rejuvenate your skin, hair, and even your nails.
Save
Save
Save